Exploring the Great Features of Drupal 10 – Your Gateway to Web Innovation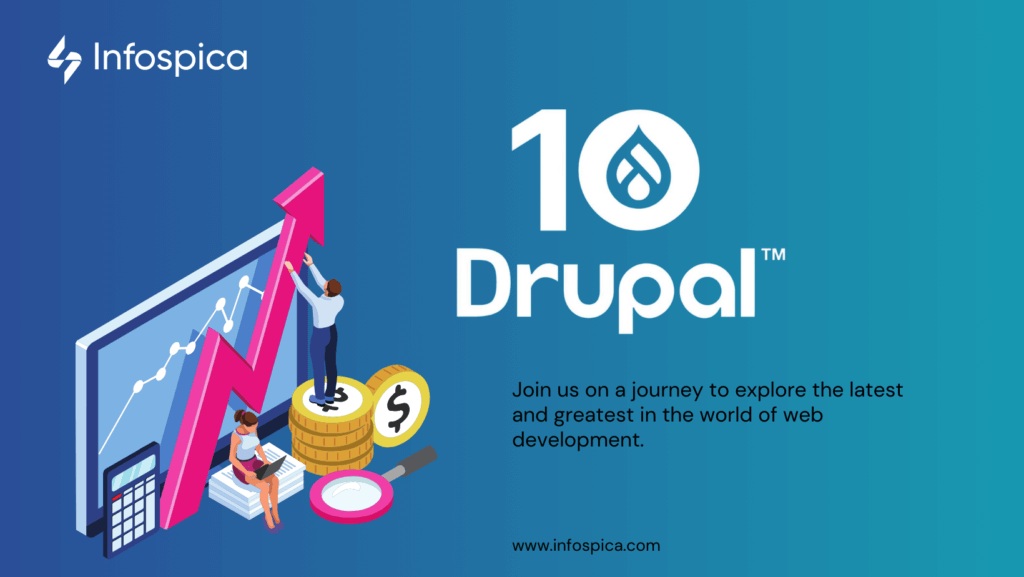 In the ever-evolving world of web development, staying current with the most recent technologies and tools is essential for achieving success. Drupal, a renowned open-source CMS, has long been at the forefront of web development. Now, with the launch of Drupal 10, it is poised to revolutionize the game once again. Here, we will explore the exciting features and enhancements that Drupal 10 offers and discuss the reasons why it is a game changer for both web developers and website owners.
Why migrate to the latest version of Drupal?
The digital landscape is always changing, and technology is evolving at a rapid pace. The most recent version of Drupal was designed to capitalize on these developments giving you access to the latest features, enhanced performance, and improved security. When you upgrade, you can ensure that your website is current with the latest technological standards and trends.
What's New in Drupal 10
Drupal 10 brings a number of enhancements and improvements that will make it a more user-friendly platform, whether you're a professional developer or just getting started with it. Some of the most significant features of Drupal 10 include:
1. Seamless Upgradation
One of the most notable characteristics in Drupal 10 is its seamless upgrade process. It provides a simple migration from Drupal 9. It means that your site is able to stay current with the most recent technology without having to undergo an extensive upgrade.
2. Intelligent Content Creation
The user-friendly interface of Drupal 10 enables efficient content management, which allows your team to publish and create content effortlessly. Say goodbye to the complexities of traditional processes and say hello to a simplified workflow.
3. Multi-Channel Publishing
Drupal 10 lets you expand your reach easily. With the ability to publish across multiple channels it is possible to create a consistent experience for your brand across multiple platforms. Connect with your customers wherever they are by providing the same quality content.
4. Enhanced Security
Security is an absolute priority and Drupal 10 does its best on this aspect. It's armed with security features that are robust to ensure your data is safe and secure. Secure your website and your customers with confidence.
5. Stunning Themes
Design matters, and Drupal 10 offers an array of stunning themes to choose from. Customizing your website has never been more enjoyable. Whether you're building a corporate site or a personal blog, you'll find the perfect theme to match your vision.
6. Faster loading Times
The user experience is an essential element in the success of your website. Drupal 10's efforts to optimize results in speedier loading times, which means your users have a smooth and fast experience.
7. Accessibility
Drupal 10 is dedicated to making the web more inclusive. It places a high value on accessibility, allowing users to build sites that will be more welcoming for everyone regardless of abilities.
8. Community-Driven Innovation
With Drupal 10, you'll have access to a supportive community that fosters knowledge sharing and innovation. Stay updated with the latest trends and best practices in web development.
9. Endless Integration
The web is interconnected, and Drupal 10 recognizes this. It has endless integration possibilities that allow you to effortlessly connect with your favorite applications and services.
10. Advanced Analytics
The power of insight is in the details, and Drupal 10 provides you with sophisticated analytics tools to help you gain valuable insights on your website's performance as well as the behavior of your users. Take data-driven decisions and refine your website's appearance to achieve optimal outcomes.
Safeguard Your Investment for the Future
The adoption of Drupal 10 and its array of robust features represents a strategic choice to bolster your online presence, elevate user experiences, and safeguard your digital investment. Its Open Source Core and Contributed Modules guarantee continuous support, adaptability to emerging technologies, and connection to a dynamic community that plays a proactive role in advancing the platform.
Entrepreneurs planning to upgrade their websites to Drupal 10 must meet all the requirements of infrastructure. If you're having difficulties with the process of upgrading our experts are able to help you. Our team of experts with years of experience will ensure the smooth migration from Drupal 9 to Drupal 10.