Are you looking to build a website which is stable, dynamic, robust and responsive? Then, the custom Joomla web development service is right for you!
We assist businesses to get the most benefit from Joomla. Our skilled Joomla developers possess deep technical expertise and experience in creating functional websites that fulfill the unique business needs of our customers. With our Joomla customized services, you can manage SEO-friendly websites with specific features that will help grow revenue and traffic.
Business Benefits From Joomla Services
Vast library of extensions
Compatible with all browsers
Powerful SEO tools available

Joomla Development Services We Offer
Joomla Website Development
We know that your needs are different and complicated. Our developers can build websites that meet your needs by integrating valuable features and functions.
Joomla Theme Development
We will help you design the perfect appearance for your site. We can assist you in creating custom themes or altering the existing ones.
Joomla Customization Services
We will let you enhance your Joomla website beyond the basics using various customization options to meet your business's specific needs.
Joomla Module Development
We can develop customized modules or integrate the necessary modules into your website following your specifications. Our developer team has experience developing modules and will complete the project within your timeline.
Joomla Migration Services
We perform Joomla site migration which involves upgrading your old Joomla site and extensions and ensuring that the newly migrated website can be fully operational and compatible with modern web technologies.
Support and Maintenance
We offer Joomla Support and Maintenance services to assist website owners in keeping their Joomla websites operating efficiently and resolving the technical challenges that might occur.
Explore Related Solutions
Why Infospica For Joomla CMS Development?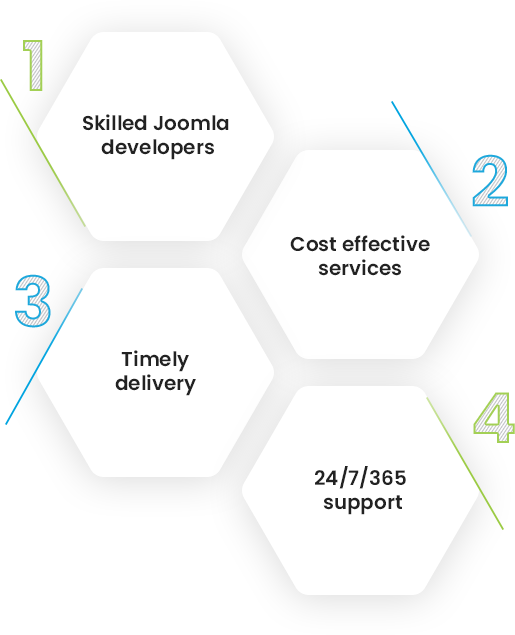 Our team of experts is knowledgeable with the most recent technologies and follow a result-oriented approach to finish the task.
We help clients by offering quality services with a range of engagement models that can assist you in obtaining customized Joomla solutions at a reasonable cost.
Your time is crucial to us. Our team of developers is always prepared to complete your project on time and ensure that the final result is search-engine friendly.
24/7/365 support: We offer extensive technical support to our clients and have built an unwavering chain of happy customers.
FAQ
Do you have additional questions?

First, we review the server's configuration to meet the requirements for upgradation and ensure that the extensions are compatible with the upgradation. We will create a test site to monitor the upgradation properly. After completing the testing stage, we will take the complete backup of your website, including files and database.
Let us give you an improved Joomla experience