We provide various services that can assist your company in building and maintaining a solid and secure IT infrastructure. Infospica's spectrum of innovative infrastructure management services supports clients in optimizing, securing, and managing their infrastructure efficiently, thereby increasing the utilization of resources, reducing costs, increasing productivity, and mitigating risks.
Areas of Expertise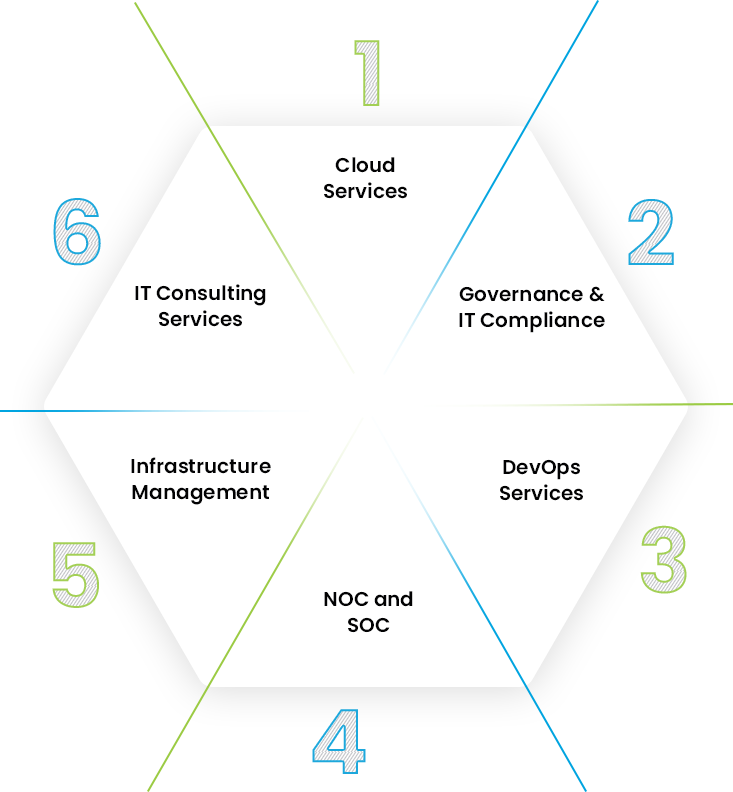 Our
Cloud Services
increase the scalability of your business and strengthen IT resources that allow a large number of users to share the same infrastructure without hazarding each other's data.
Our governance, risk, and compliance services are ready to help your business understand and mitigate its level of technology risk while ensuring it meets all necessary regulatory compliance.
With our DevOps services, we ensure rapid on-boarding of applications by automating end-to-end delivery pipeline and facilitate continuous integration and development across leading cloud platforms.
We can assist to create overall system architecture, physical layout planning, tools selection, customization, operational process and procedure creation of your NOC/SOC.
With our Infrastructure management service you can interact between your cloud and on-premises environments, servers, storage, network, virtualization software, and more.
We offer IT consulting services that will help you improve your software architecture, create a tech-driven digital strategy, and improve operations by optimizing your software portfolio.
Solutions We Offer
Desktop
Management
Our certified desktop technicians can support the entire life-cycle of your IT assets, providing customized desktop services based on the nuances of your environment and the technical capabilities of your end-users.
Remote Infrastructure Management
Our Remote Infrastructure Management services are designed to keep your network and server infrastructure running smoothly and efficiently, and in the process, reducing the burden on your existing infrastructure staff.
Server
Management
Our expert server IT support specialists perform server installations, configurations, upgrades, and other infrastructure management services to improve performance & reliability.
Application
Management
We can help you maintain the right performance of the applications critical to your enterprise. With thorough monitoring activities, our team proactively diagnoses and fixes evolving slowdowns and failures before they get detected by end-users.
Network
Management
We deliver network design & architectural planning, audits, and ongoing support for TCP/IP setup, VPSs, SANs, LAN/WAN & media integrations, and network device troubleshooting.
Data Center
Management
We provide comprehensive data center management solutions including the hosting of the system management and developing a well-planned infrastructure environment.
Database
Management
We offer advanced database performance analysis designed to identify potential bottlenecks, find SQL queries, and prioritize actions to deliver measurable results.
Storage
Management
Our Storage Solutions specialists help you build an efficient storage solution on the right platform. Which meets your needs for primary storage, backup, archiving, and business continuity/disaster recovery.
Why Infospica for your IT Infrastructure Support?
At Infospica we not only help our clients in reaching the pinnacle of success, but we also help them to stay there while maintaining the competitive edge required to indomitably enjoy their successes safely and productively. To achieve this, Infospica brings to the table domain expertise, innovative strategies, and best practices while employing a comprehensive infrastructure management approach to help clients optimize performance and maximize value. Our experts help in inferring and transforming industry best practices into hands-on solutions that drive businesses to exceed their core operational goals.
Detailed approach
We dive into the details about your business operations to identify and deal with the sources of challenges as well as opportunities.
Customer experience
With a focus on the end-user, and dedication to excellent user experiences, we have a strong track record of delivering >90% customer satisfaction.
Process & Quality alignment
We optimize processes leveraging a mature delivery methodology. Our seamless integration of ITIL best practices provide value to the core of our client's business.
Positive work culture
We behold the power of positive thinking that happens in a positive environment for the growth of the entire organization.
Tools & Technologies We Use
Manage engine

azure

aws

citrix

windows-server

Windows Hyper-V

linux

prometheus

nagios

redhat

vmware

fortinet

oracle

docker

netdata

grafana labs

kopia

speedcloud
ManageEngine

Azure

Amazon Web Services

Citrix

Windows Server

Microsoft Hyper-V

Linux

Prometheus

Nagios

vmware

Red Hat

Oracle

Fortinet

Oracle

Docker

Netdata

Grafana Labs

Kopia

Speedcloud
FAQ
Do you have additional questions?

IT infrastructure management refers to taking control of your organization's IT environment and experience. It aims to advance the overall effectiveness of IT processes, policies, data, human resources, equipment, networking, and many other aspects that influence your IT. By managing your IT environment, you will be able to identify and keep track of the changes and updates needed for your systems and make smarter IT decisions that mitigate your risks. By taking IT infrastructure management seriously, you can limit or avert disasters and prevent major data loss or downtimes. With a robust IT infrastructure management plan, you can reduce costs and keep your productivity flowing.

Network infrastructure collectively refers to the hardware and software resources that enable network connectivity, communication, operations, and management of an enterprise network. Network infrastructure facilitates communication between users, processes, applications, services and external networks, and the internet.

Remote Infrastructure Management (RIM) refers to the remote management of the information technology (IT) infrastructure of an organization either entirely or in parts. This can include the remote management of both hardware and software of an enterprise such as workstations, desktops, laptops, notebooks, phones, servers, storage devices, IT security devices and data.

The main difference between cloud computing and edge computing lies in how each one processes data. In cloud computing, data is stored, managed, and processed on remote servers and data centers, usually over the internet. This leads to latency in information processing. Edge computing moves data processing to the edge of the network. It can process time-sensitive data without the need for a centralized data center by taking it closer to the end-user.
Need our IT Infrastructure Support?