Every business has a mobile app requirement. Mobile applications are easy to use, feature simple interfaces, convenient and offer new ways to access information. We help business by providing top quality standard mobile apps. From iOS & Android app development to Cloud-based application development, we develop mobile apps for various operating systems and mobile platforms, using creative designing, swift & efficient planning, effective mobility solutions, and our development team's proficiency and expertise. Our skilled Android & iOS app developers work round the clock to deliver services for feature-rich custom hybrid & native iOS mobile & web apps development, iOS game development, iOS app porting & testing, and more, for a better user experience.
Areas of Expertise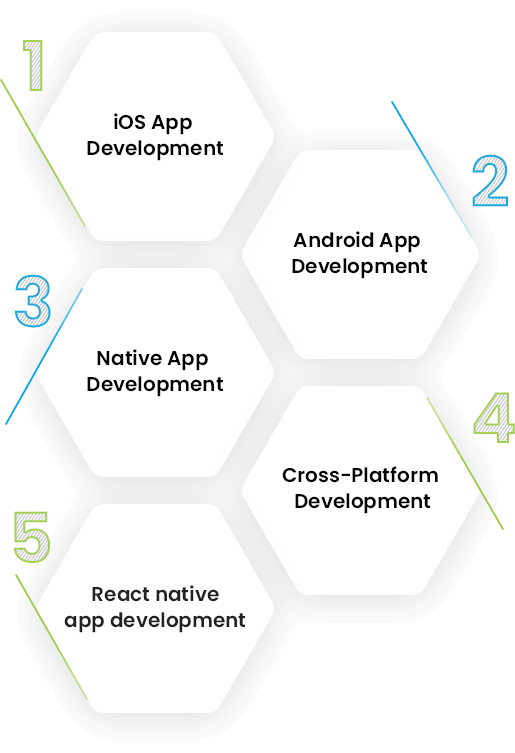 Our mobile app development team creates mobile apps for the latest versions of iOS, iPhone. Apple Watch, Apple TV, & iPad while adopting futuristic app development techniques.
At Infospica we offer you efficient, innovative & avant-garde Android app development services using the latest Android development tools & Google SDKs.
From optimized performance to easy integration with the latest technologies, our team designs and develops fast and responsive native apps, with a UI that better matches with UX of the OS.
We create highly responsive cross-platform and hybrid apps using Apache Cordova. Our extensive experience in Cordova mobile application development ensures that your app is astrictly following UI/UX guidelines. To enhance functionality, we use HTML and JavaScript's wide range frameworks and this allows to reduce costs and speed to market.
React Native is an open-source mobile application framework that is ready-to-run for both iOS as well as Android platforms using javascript. We make sure that the mobile app we develop using react native provides the best quality, transparency and human relationships all at a reasonable cost.
Why Infospica For Mobile App Development?
Here are just some of the ways that we stand out as a company when it comes to what our experience is with mobile application design and development.
Complete Transparency
We'll keep you updated on our progress at every stage of your mobile app development.
Excellent Mobile
App Design
All our mobile app development and designs are unique and offer your customers seamless navigation.
Forward-Looking
Our team of expert mobile developers always looks at the bigger picture and executes design steps on the basis of strategy and data insights.
24/7 Support And
Maintenance
We're with our clients every step of the way when it comes to supporting and maintenance. Whenever you need help, we'll be there for you.
Specialities
Agile mobile app development and project methodology
Assistance with the App Store, Google Play
Competitive rates for mobile application development
In-house, front-end specialists: Business Analysts, UX/UI Experts & Designers
A friendly, open, and collaborative way of working with clients
Proven track record of successful mobile application project delivery
Solid open technology expertise across multiple platforms
Cross-platform and HTML5-based mobile app solutions
Technology Stack
android

ios

obj-c

flutter

kotlin

swift
Android

iOS

Objective-C

Flutter

Kotlin

Swift
cordova

ionic

kony

Oracle MAF

pega

react

kivi
Cordova

Ionic

Kony

Oracle MAF

PEGA

React Native

Kivi
fabric

Firebase

flurry

TestFlight
fabric

Firebase

Flurry

TestFlight
ai

OmniGraffle

photoshop

uxpin
Adobe Illustrator

OmniGraffle

Adobe Photoshop

UXPin
FAQ
Do you have additional questions?

Users like mobile apps as they can use them while on the go, people have busy lives and often prefer to shop, play games and consume content on their portable mobile phones and tablets. The mobile apps allow your business to directly connect with the customers. The mobile apps also help to build strong brand value in the market and provide a direct marketing channel that will boost your profit.

Native App is designed in specific programming for IOS, Android. It's designed for running on one platform, and can't run on the other. For example, a game designed for iOS won't perform on Android devices. Most of the mobile game/app designed is Native App. Cross-platform technology provides a framework where coding is done once, however it can be utilized to deploy apps in iOS, Android, and Windows phones.

The framework or programming language that we use to develop applications depends upon the chosen platform by the client. For example, for iPhone applications, we use iOS SDK, Objective C, Swift, Xcode, and other tools and technologies provided by Apple. Similarly, for Android applications, we use Android SDK. We have expertise in frameworks of Open Source and Microsoft Technologies for Web Service and API-based applications.

Normally, it takes around 3 months for apps that are less complex, while complex apps might take over 6 months to develop.
Ready to build your Mobile application solution?